I am delighted to be invited by the Jason Jacques Gallery to show at the Fog + Design art fair.

I am delighted and honored to once again be included in the Fernelmont Contemporary Art Festival at the beautiful Chateau de Fernelmont in Belgium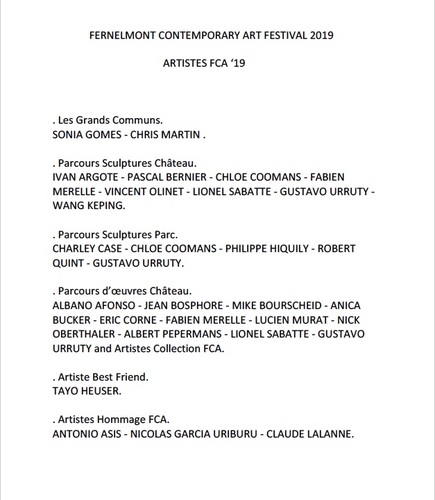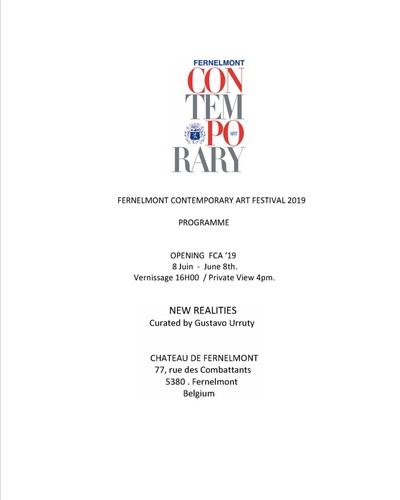 Thrilled to be part of this exciting exhibition in a fantastic space!
Buoancy
July 12th - September 5th, 2019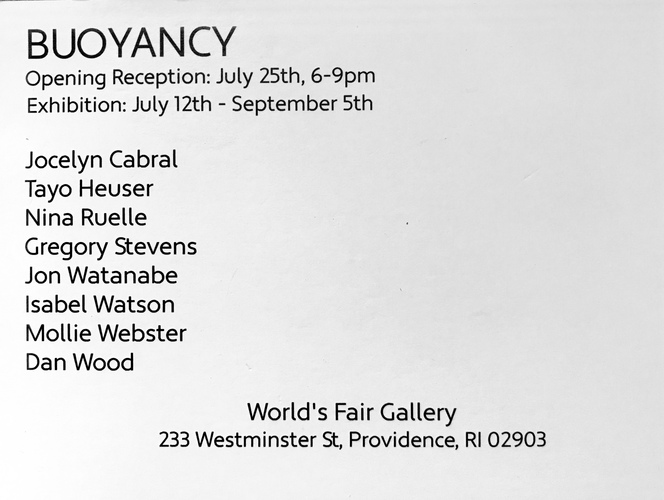 This is the cover of the card for Buoyancy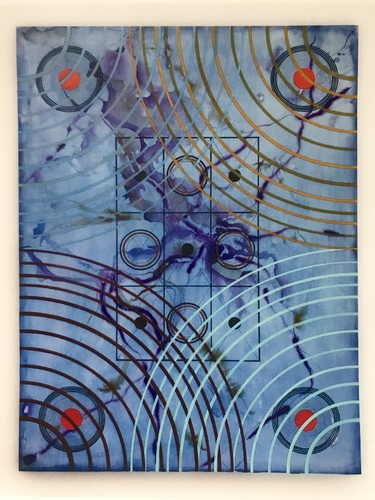 I was thrilled to be included in this extraordinary exhibition of 38 transformed book cover by 38 artists!
So many imaginative transformations. Thank you to Periphery Space and Paper Nautilus! May 6th-June 29th, extended to August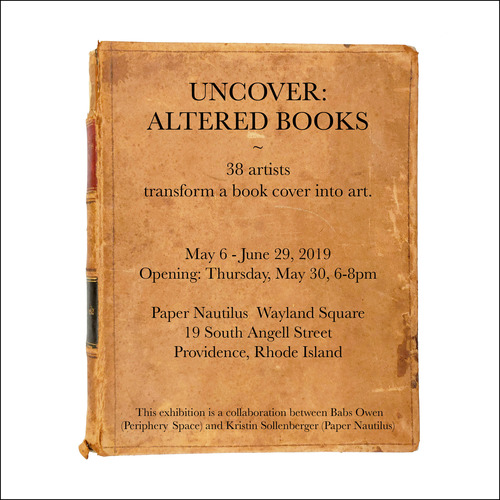 My contribution
Cloth, ink, wood and 23K gold leaf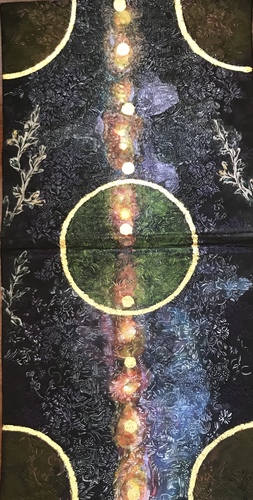 Krakow Witkin Gallery ANNUAL AIDS BENEFIT 2018
I am very glad to contribute to such an important cause.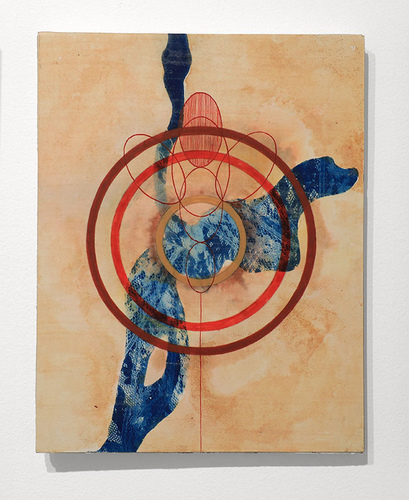 TAYO HEUSER : PAPER CONSTRUCTS
NOVEMBER 24,2017- JANUARY, 2018
UMASS DARTMOUTH GALLERIES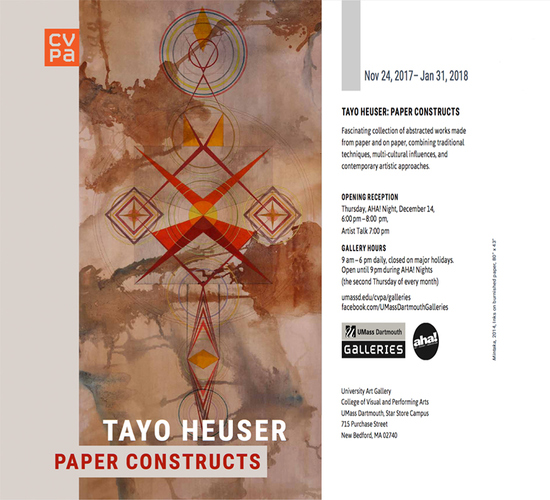 TAYO HEUSER
LOOKING IN: LOOKING OUT
September 1- October 8, 2016
JAMESTYOWN ARTS CENTER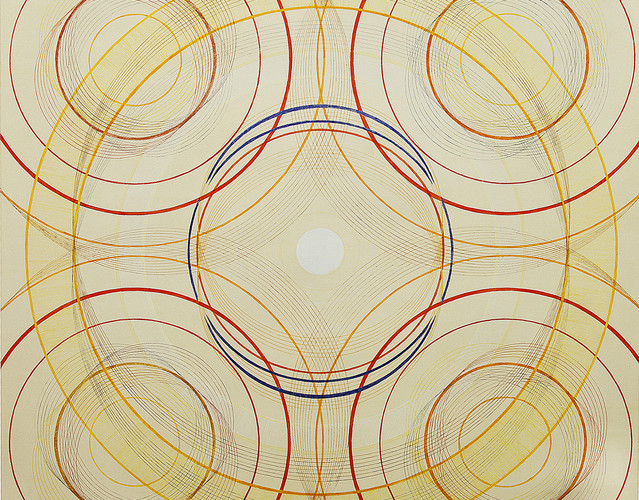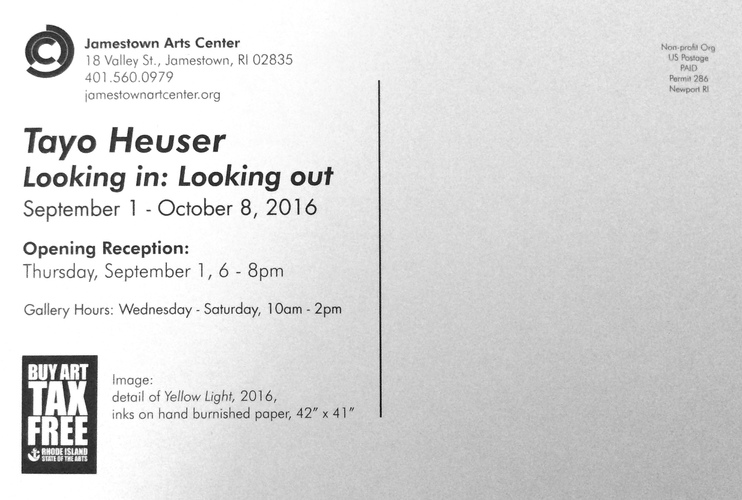 Krakow Witkin Gallery ANNUAL AIDS BENEFIT 2018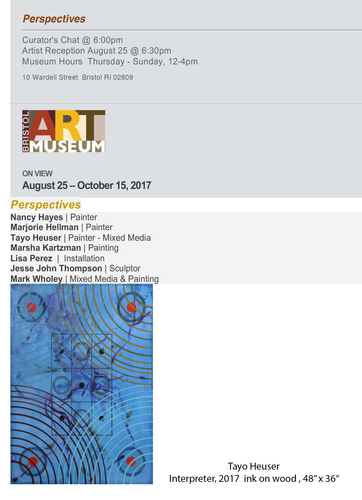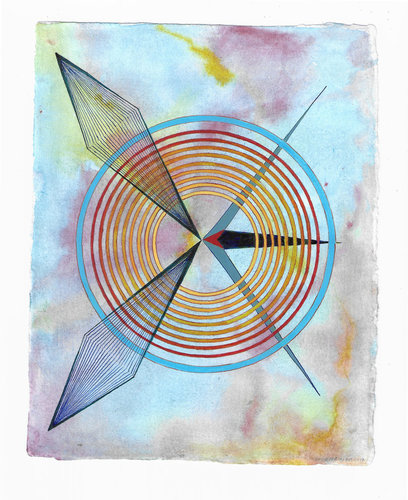 DIEU DONNE ANNUAL BENEFIT 2017
Tayo Heuser, Ink on handmade paper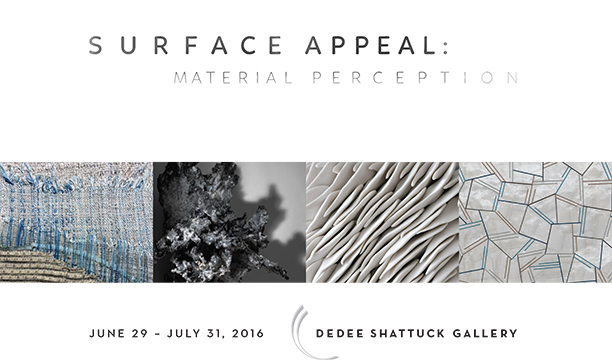 http://dedeeshattuckgallery.com/surface-appeal-material-perception/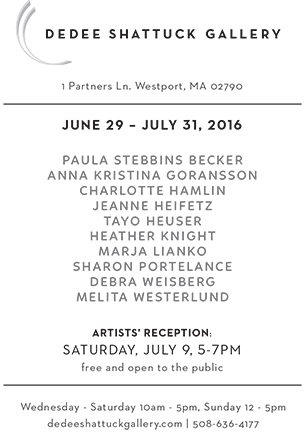 The Fernelmont Contemporary Art Festival is housed in this magnificent chateau in Fernelmont, Belgium.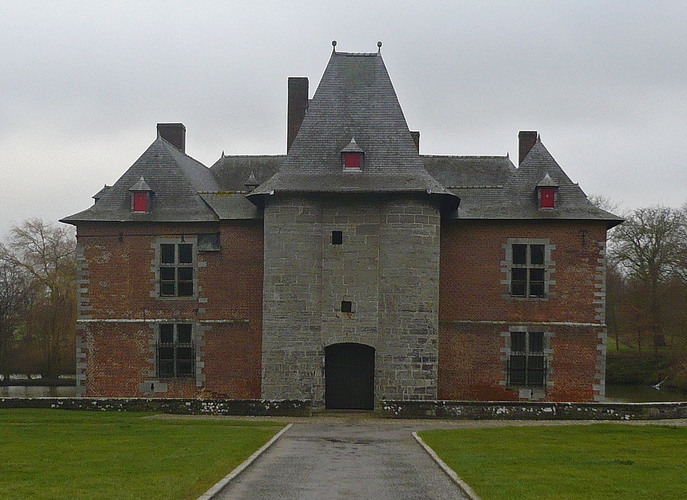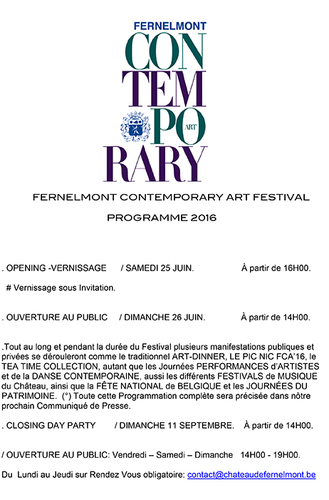 Dieu Donne
2016 Annual Benefit
CELEBRATING THE 40TH ANNIVERSARY OF DIEU DONNÉ
SATURDAY, NOVEMBER 5, 2016, 6-8PM
PARK AVENUE ARMORY
HONORING
JORDAN D. SCHNITZER
Introduced by Jennifer Farrell, Associate Curator, MMA
&
PAUL WONG
Presented by Susan Gosin, Founder, Dieu Donné
67th and Park Avenue, New York, NY
During IFPDA Print Fair weekend.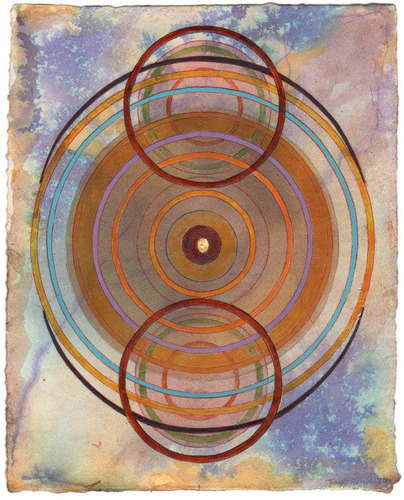 Untitled, 2015 Handmade and hand burnished paper and ink 11" x 8.5"
Private Collection
BARBARA KRAKOW GALLERY
ANNUAL AIDS BENEFIT EXHIBITION 2016
November 26, 2016-November 30, 2016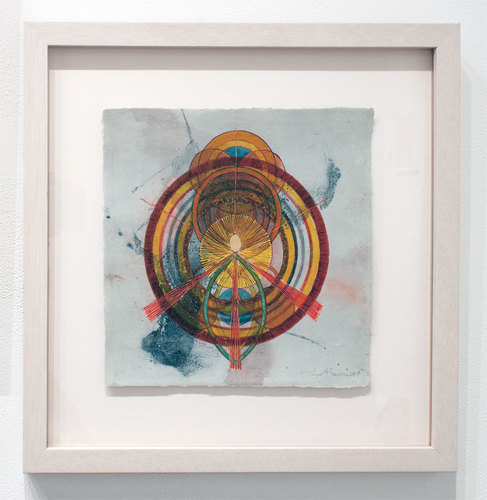 http://www.barbarakrakowgallery.com/annual-aids-benefit-2016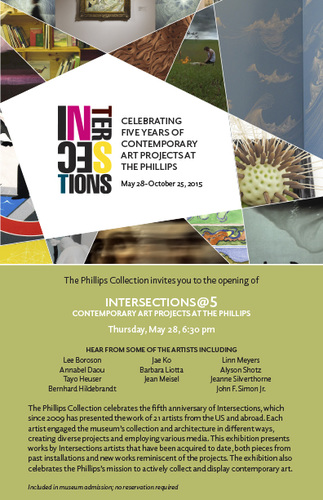 Inaugurated in 2009 and led by Senior Curator of Modern and Contemporary Art Vesela Sretenović.
This exhibition presents works by Intersections artists that have been acquired to date, both pieces that were featured in past installations and new works that are reminiscent or emblematic of the projects. Most importantly, the anniversary exhibition is a celebration of the Phillips's mission to actively collect and display contemporary art.


acompanied by a beautiful catalogue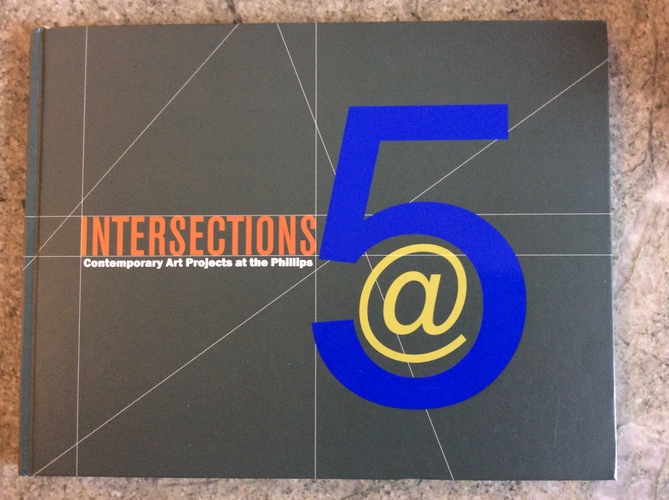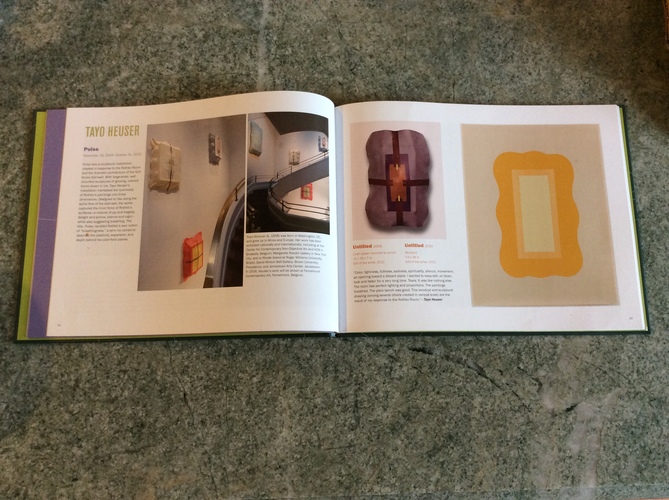 http://blog.phillipscollection.org/2015/08/06/spotlight-intersections5-tayo-heuser/
http://www.phillipscollection.org/events/2015-05-28-intersections-at-five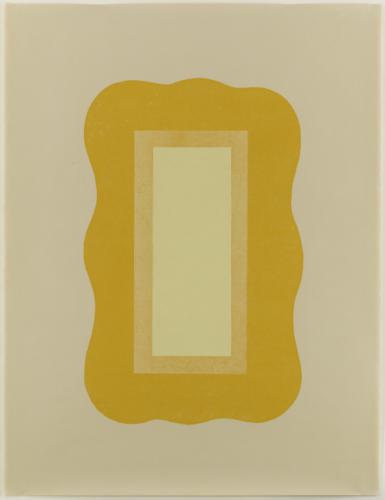 Phillips Collection Untitled 2010 Woodcut 53" x 38"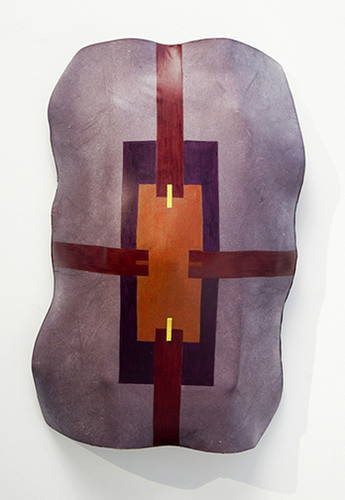 Untitled 2009 Handmade linen paper and ink on hand- molded acrylic backing
20" x 16" x 7"
Phillips Collection








Nine years ago, a unique Rhode Island arts project launched through collaboration between art collector Joseph Chazan, M.D. and the artistic director of AS220, Umberto Crenca. "NetWorks" was created to document, celebrate, and foster the richly creative and diverse Rhode Island artistic community.
Each year since its launch in 2008, the project has created an archive of video and photographic profiles that are enriched by museum and gallery exhibits, catalogs, and panel discussions.
I was elected to participate in 2012


Please click on link to see film
https://networksrhodeisland.org/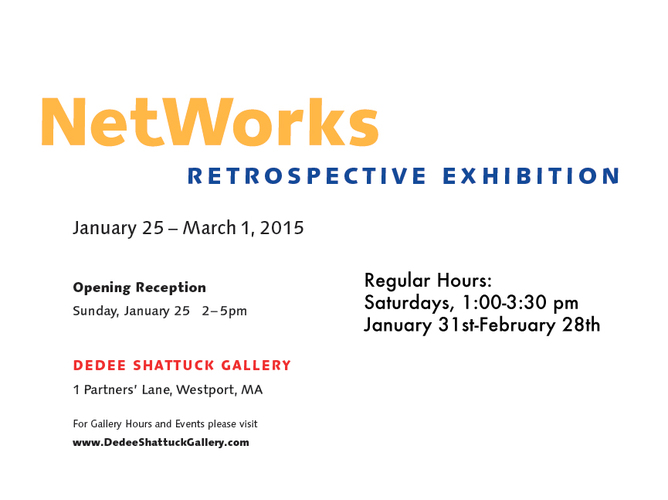 This exhibition is a collaboration between the artists, digital engineers and printing technicians at 3D Systems in Boston, who sponsored the printing.

http://www.rimonthly.com/Blogs/ridaily/March-2015/3D-Printed-Wall-Art-Bulls-Eyes-and-Stunning-Vessels/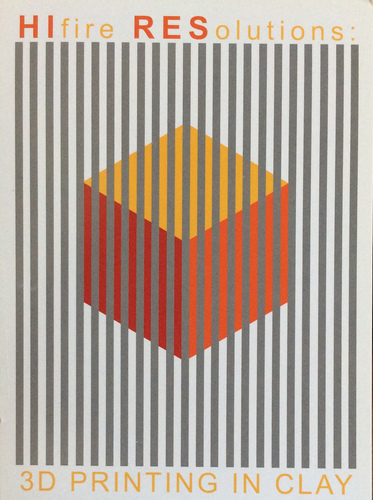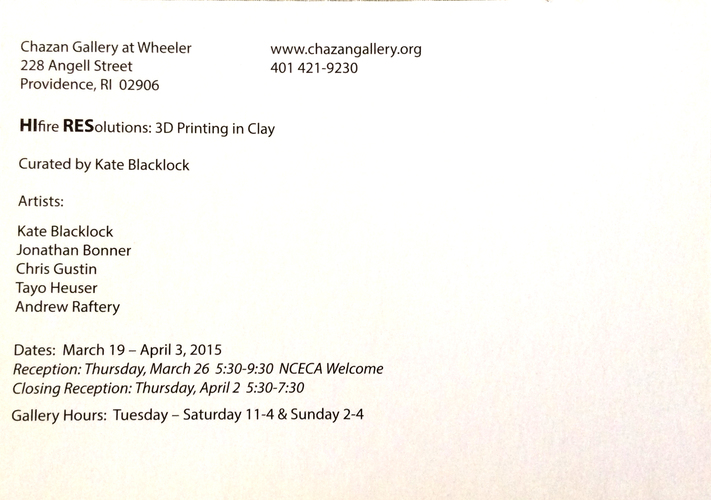 http://chazangallery.org/Exhibitions%202014-2015/HIfire%20RESolutions.asp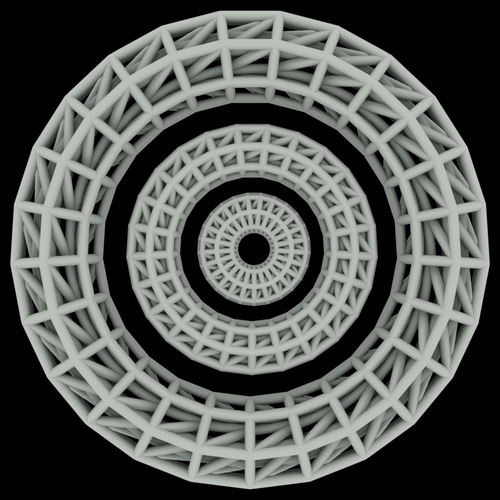 Tayo Heuser 3D printed circles, 2013


DIEU DONNE
2015 Annual Benefit Event
October 21, 2015
Honoring
Melvin Edwards & Janice Oresman
Hosted by Alexander Gray Associates
510 West 26th Street, New York, NY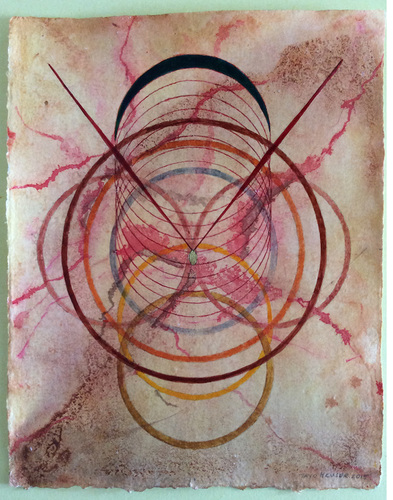 Untitled, 2015 Handmade and hand burnished paper, ink 11" x 8.5"
Private Collection
Dieu Donne
2014 Benefit and Auction
Wednesday, October 29
Robert Miller Gallery, 524 West 26th Street

5:30 pm VIP reception and preview for all Benefactor, Professional Affiliate, and Patron ticketholders
6:30 pm Reception and silent auction
7:15 pm Performance of page sounding and introduction of Ann Hamilton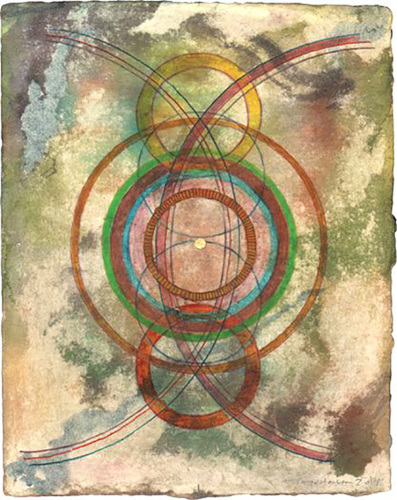 Untitled 2014 Handmade and hand burnished paper, ink 11" x 8.5"
Private Collection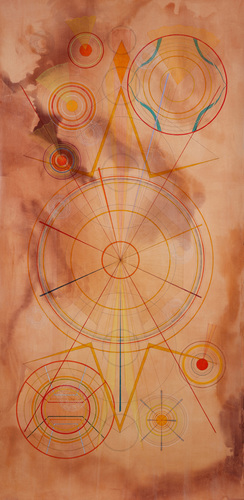 Tayo Heuser Altair, 2013 Inks on hand burnished paper 83.25" x 40.25"
CADE TOMPKINS PROJECTS
ART MARKT HAMPTONS
JULY 2013
http://www.cadetompkins.com/news/cade-tompkins-projects-at-artmrkt-hamptons/




"Natural Elements", art space 64 @ MEMORIAL SLOAN-KETTERING, NY, NY.
Curator Holly Shen Chaves
Jan 10, 2013
Installation of work at the Memorial Sloan Kettering Cancer Center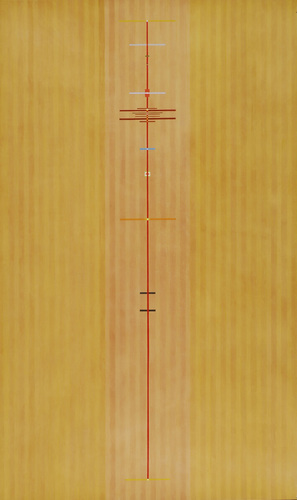 Vertical #1, 2007 Inks on hand-burnished paper 72" x 42.5"
Private Collection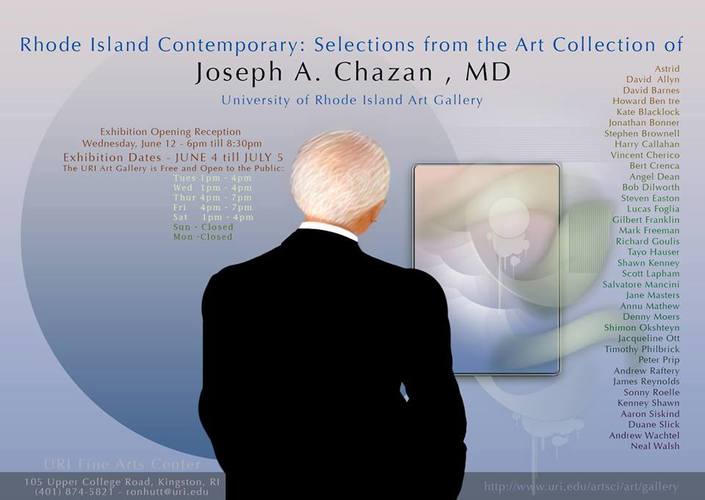 These works represent Chazan's long-standing patronage of the arts in Rhode Island and his commitment to support living artists.

http://events.uri.edu/event/uri_art_gallery_opening_reception



DIEU DONNE ANNUAL BENEFIT EXHIBITION AND AUCTION
JAMES COHAN GALLERY
MONDAY, OCTOBER 7, 2013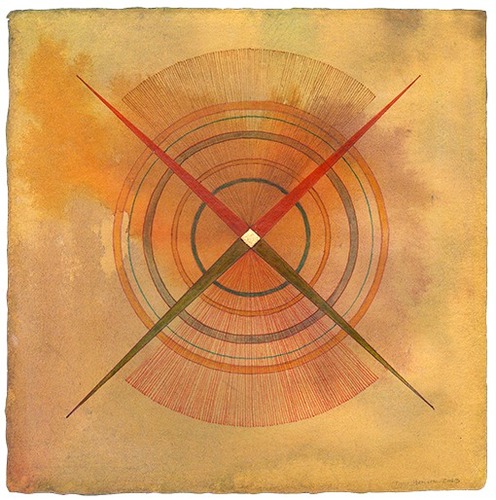 Ink and 23k gold on hand burnished paper 8.8" x 8.5"
Private Collection
NEWPORT ART MUSEUM
Networks 2011/2012
June 1 -September 15 CUSHING GALLERY
Networks
2011 / 2012
Produced by Joseph A. Chazan, M.D., NetWorks Rhode Island annually showcases and records the work, achievements, methods, and profiles of Rhode Island artists. "For me, the NetWorks project further validates for Rhode Island artists the significance of what they do as they toil daily, usually in a solitary way, seeking excellence and striving to overcome the vicissitudes and doubts that come with working as artists," says Dr. Chazan. "It is with the utmost respect and admiration that I enthusiastically present NetWorks 2011 and 2012."
Networks 2011/2012 was on view during the summer of 2013 at the Newport Art Museum.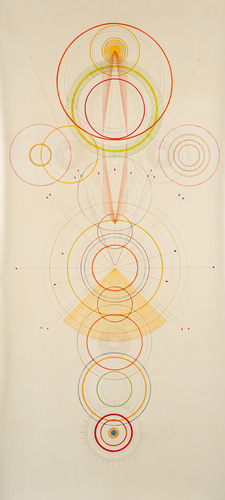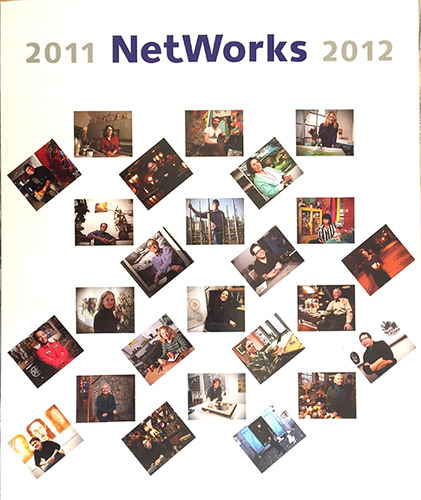 https://networksrhodeisland.org/networks-2011-2012/
http://www.newportartmuseum.org/Exhibitions/Past-Exhibitions/NetWorks-2011-2012
http://www.mgrear.com/blog-2/news/networks-2011-2012-artists-recognized-in-newport-art-museum-exhibition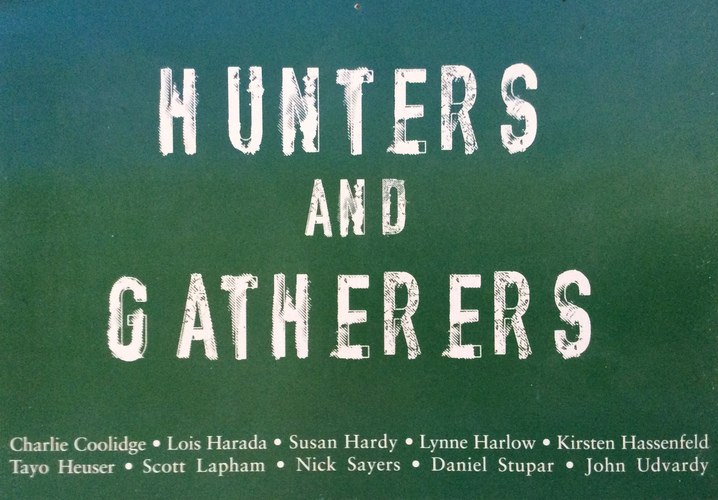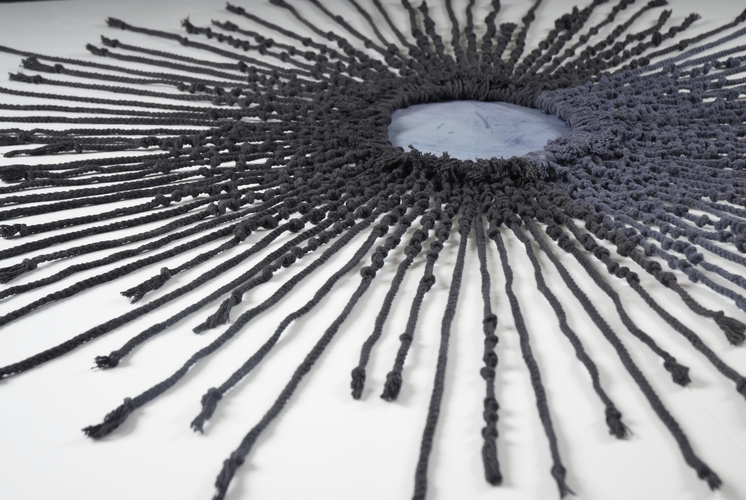 HUNTER AND GATHERERS
February 10- March 31, 2012
CADE THOMPKINS PROJECTS
http://www.cadetompkins.com/exhibitions/hunters-and-gatherers/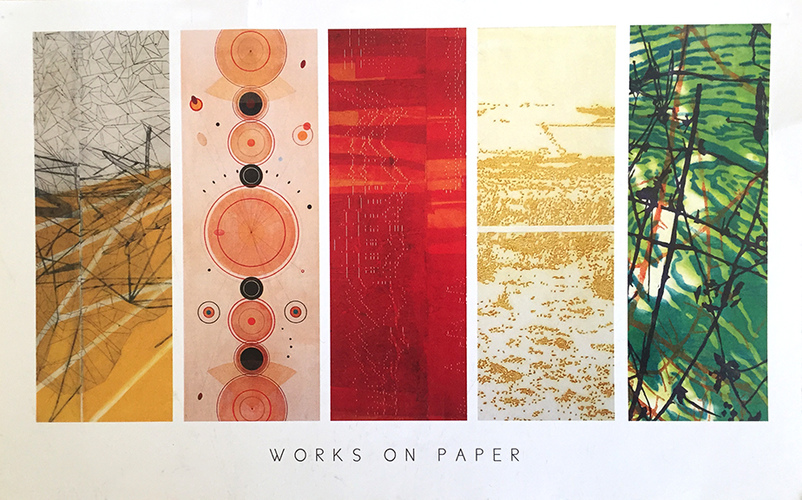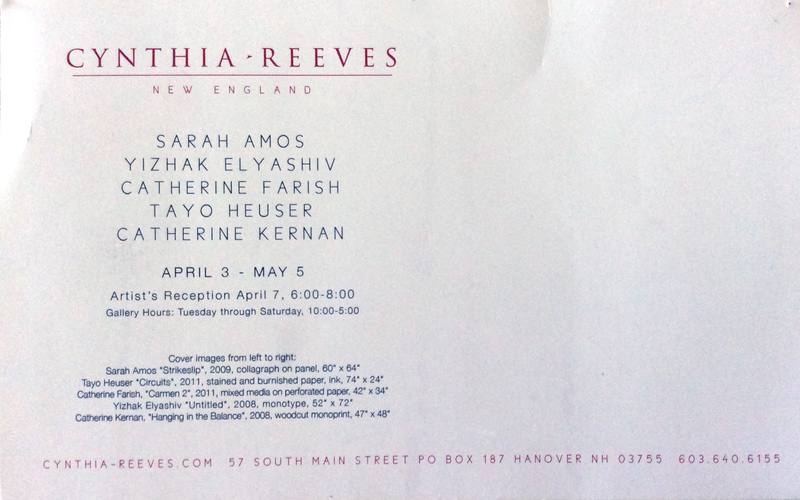 THE PHILLIPS COLLECTION

Eye to Eye: Joseph Marioni at the Phillips
(October 22, 2011–January 29, 2012)

Thirteen glowing paintings by Marioni are surrounded by about 40 works from the museum's collection that trace the development of color and light in modern painting. This is the first Washington, D.C., exhibition of Marioni's work.

My work was included in this exhibition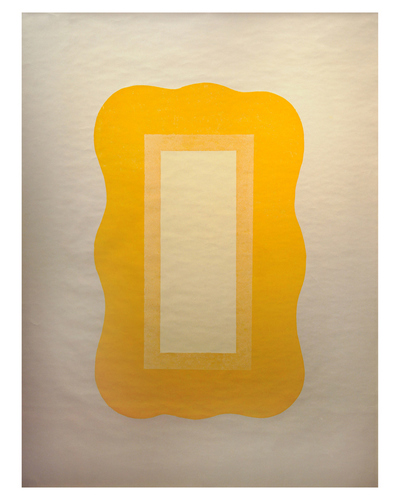 http://www.minusspace.com/tag/tayo-heuser/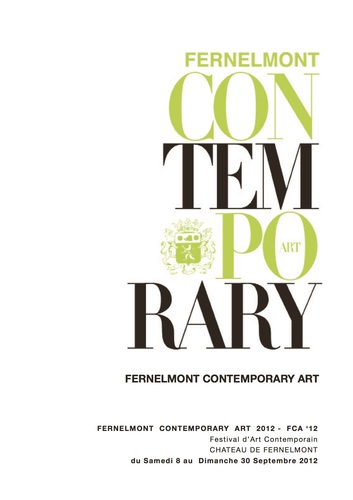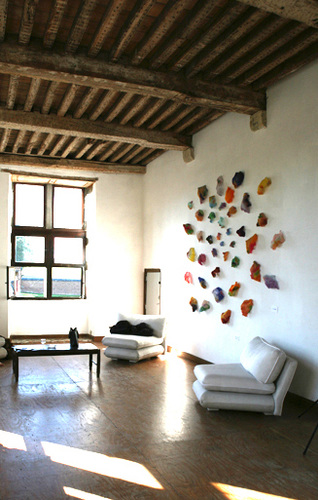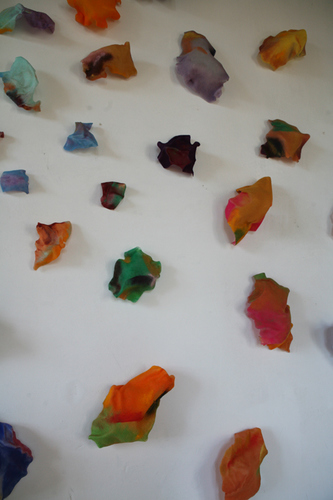 Installation of Proteus Chateau de Fernelmont, 2012
Flocking on hand-molded acrylic, variable dimensions
Dorsky Gallery EXTRAVAGANT DRAWING exhibition with panel discussion